This Boy Was Photographed When He Was Doing His Homework By The Light Of McDonald's. This Picture Has Changed His Life!
Subscribe
Get the best of OneWay straight in your inbox!
Student Joyce Gilos Torrefranca witnessed an amazing scene in Filipino city of Mandaue. She saw a homeless boy diligently doing his homework in the light coming from the local McDonald. The boy was using a stool as a table.
The girl was so inspired by this homeless boy, that she decided to take picture of him. Joyce Torrefranca posted this photo to Facebook on June 23 and it quickly became viral.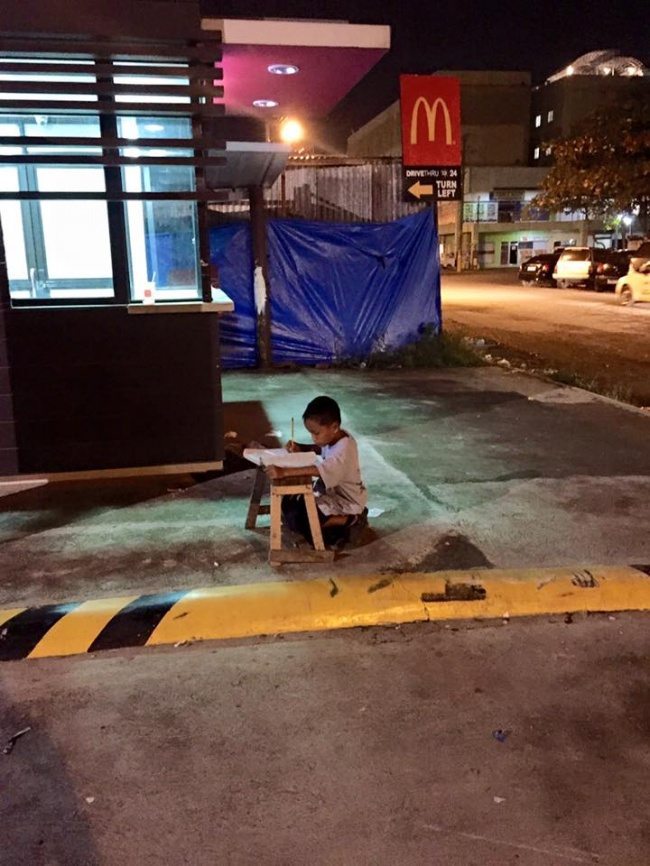 Soon Philippine news station ABS-CBN reported that the boy was found near the restaurant where the photo was taken. It was learned that the boy's name is Daniel Cabrera, and he is 9 years. His father died. Now the boy, his mother, Christina Espinosa and his sibling are forced to live in the outdoor food stall without walls, because their house burned down. The boy's mother and sibling are trying to support his family, but they still don't make enough money.
Despite all the difficulties of life, Daniel is studying hard! The boy dreams of becoming a police officer.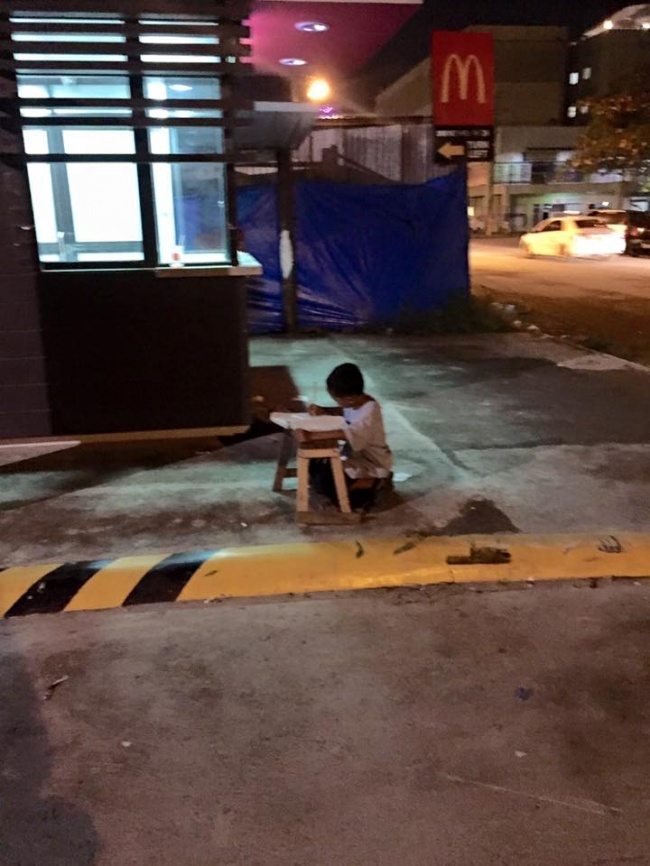 When the world saw this photograph, people from all over the world started to send donations to the boy. Christina Espinosa, the boy's mother, received a grand from sponsors to create her own business. Daniel got scholarship and support from Filipino politicians. Local law enforcement authorities and social services started to bring this family food.
"I didn't think that a simple photo can make a huge difference. Thank you guys for sharing the photo. With that, we were able to help Daniel in reaching his dreams. I hope Daniel's story will continue touching our hearts so that we will always be inspired and motivated in every situation we face in life"- Joyce Gilos Torrefranka wrote on her page on Facebook.
Image and information sources: buzzfeed.com, joyce.torrefranca