10-Year-Old Boy Found His Missing Mother In YouTube Video.
Subscribe
Get the best of OneWay straight in your inbox!
Evan Olsen lives with his father in Florida, USA. At the end of 2015 his mother who was mentally ill and had problems with drugs went missing. Evan and his father searched for her but they could not find her.
Once Evan Olsen was watching a video on the Internet and recognised his mother, Jaime Garlinghouse, who was in this video.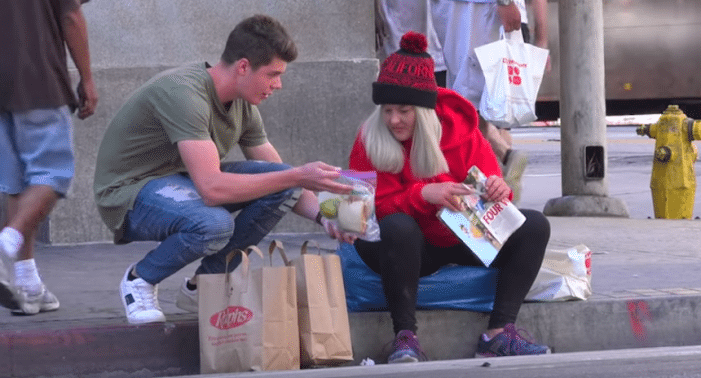 Brooke Roberts, YouTube blogger best known for his social experiments, posted a video capturing a single day of his life. Brooke goes to the poor district of the city and shares a meal with the homeless people and buy the most necessary things for them.
10-Year-old Evan saw in the video his mother, who received a package with food from the hands of Brooke.
According to the boy's father, Eddie Olsen, after watching the video Evan cried half an hour.
Eddie Olsen contacted the blogger to find out where the video was filmed. Having been informed that the shooting took place in Los Angeles, Olsen's family, as well as Brooke Roberts went in search of Jaime.
Jaime was found pretty quickly. A mobile phone and clothes were bought for her. In the near future she plans to return home.
"We thought that Jamie died, but my ten year old son Evan saw her in the video on YouTube. It is such a relief for me and for the whole family," – said the boy's father.
Image and information sources: mirvam.org